Columbus Ohio is home to a host of communities with a historical touch that, in some aspects, seem to have frozen itself into a fabric of time in the past and stitched itself over modern life. It's a prevalent scene that some Columbus, Ohio roofing companies like Muth & Company Roofing have specialized in the repair and restoration of historical-themed roofs. Many of these well-known period styles in the city come from architectural inspiration from the Victorian age.
Tall and Narrow
The towering influence of Britain's longest-reigning monarch extends through the popular architectural styles that bears her name. Victorian homes are marked by homes that could be made narrow enough to fit a small lot, while making up in height. Taller home structures can be traced back when component parts for industrial buildings in England were being built by mass production, and space even then was quickly becoming a prime issue.
Towers and Turrets
"An Englishman's home is his castle," so the old saying goes. Victorian-style homes embody this statement, somewhat literally, as they showcase one of the crowning symbols of medieval castles and fortresses: tall watchtowers capped with steep, often conical roofs. These modern versions make an additional guest bedroom or family library.
Asymmetry
.
Victorian homes, while characterized by a look particular to the period, are always built with certain features that make them unique and distinctively contemporary. It is thus common to find among these architectural style smatterings of asymmetrical architectural elements and variations in ornamental roofing designs and lines. Pointed windows, as well as bay windows are distinguishing designs that mark these homes uniquely from other homes of similar structure and height.
Trim
The trim of these houses can be defined by the following lines from an article by Life123.com: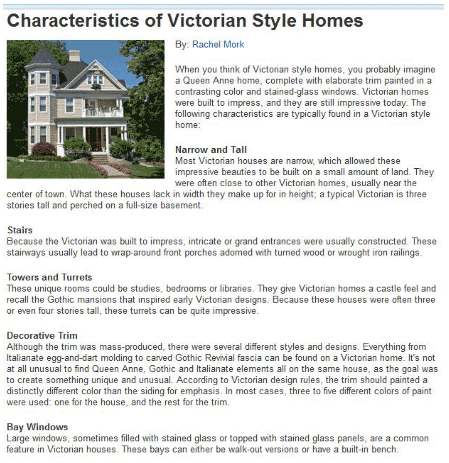 Everything from Italianate egg-and-dart molding to carved Gothic Revival fascia can be found on a Victorian home. It's not at all unusual to find Queen Anne, Gothic, and Italianate elements all on the same house, as the goal was to create something unique and unusual.
Like anything considerable that you own, keep your home well maintained by regular inspection and repair, if necessary, and consider only dependable roofing companies in Columbus, Ohio like Muth & Co. roofing. Proper maintenance helps preserve the integrity and beauty of your home even well beyond its time, much like its namesake monarch.
(Characteristics of Victorian Style Homes; Life 123; 2013)