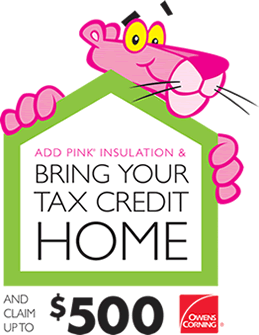 Muth & Co. wants you to know about a great way to save some green while making your Columbus Ohio roofing system work more efficiently! Through 2013, the federal government is offering a tax credit for qualifying purchases of insulation. An eligible purchase between January 1, 2012 and December 31, 2013 qualifies you for a tax credit of 10% of the cost of materials for insulation projects, up to a maximum of $500.
We recommend adding Owens Corning PINK® Fiberglas™ insulation if your attic does not meet recommended R-value guidelines. Insulating your attic with Owens Corning insulation can save up to 20% on your heating and cooling costs year-round. Many older homes have inadequate levels of attic insulation, usually only 3-6 inches, and many newer homes have only standard levels, which fall below most current building codes.
Don't let your air conditioning and heating dollars escape through the roof! Call Muth for an energy efficiency inspection of your attic. For just $89, our team will perform a thorough inspection and give you an immediate assessment of your home's insulation value. Plus, if we recommend repairs or new insulation, we'll apply the $89 inspection toward any attic-related work, within 30 days of your inspection.
Find out how Muth can help you make your home more efficient and qualify for this tax credit on your 2013 tax return. Call us today at (614) 882-0900!
Muth & Company Roofing is a certified Master Elite Contractor through GAF servicing Columbus, Ohio and the surrounding area including Westerville, Delaware, Worthington, Dublin, Bexley, Gahanna, New Albany, and nearby communities. Muth & Company provides roofing installation services, as well as gutter installation, gutter replacement, gutter repair, attic insulation, skylight installation, and roof repair. We're proud to offer metal roofing installation and metal roof financing services.
We use quality, feature-rich products including GAF American Harvest Shingles as well as the full GAF roofing system to deliver superior protection and warranties. If you're in need of an experienced, trusted roofing or gutter company in the Columbus, Ohio region, don't hesitate to call Muth & Company for a free estimate at (614) 682-3060 today!