As part of our "Give Where You Live" initiative, this week we're highlighting the efforts of the Humane Society of Delaware County, one of the local non-profits that we support and encourage our neighbors to support this holiday season!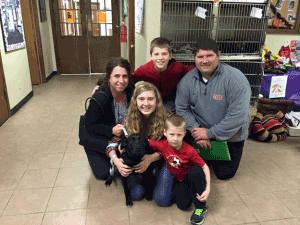 In addition to operating a non-profit animal shelter, the Humane Society of Delaware County (HSDC) works tirelessly to help abused, neglected and homeless pets find forever homes. HSDC accepts all animals brought to the shelter, regardless of age, breed or size, and does everything possible to prevent and relieve animal cruelty. The organization's primary efforts include:
Adoption. HSDC helps to build lifelong bonds between people and animals by providing food, shelter and veterinary care for homeless animals in preparation for finding their forever homes with local families. Prior to being made available for adoption, all pets are spayed or neutered, tested, microchipped and up-to-date on vaccinations.
Education. HSDC works to educate youth and strengthen community ties by hosting shelter visits for schools, clubs and other groups, and participating in other events that promote humane education.
Clinical services. HSDC serves animals and local residents by operating a low-cost Vaccination and Wellness Clinic, and reducing pet overpopulation through a low-cost Spay and Neuter Clinic.
Cruelty prevention. HSDC protects animals with educational programs that promote cruelty prevention, and by conducting cruelty investigations.
To donate or to see available pets for adoption, visit www.hsdcohio.org, or call (740) 369-7387 to learn more about volunteer opportunities with HSDC.
To learn more about Muth & Company Roofing, a leading Columbus roof repair and replacement company, visit muthroofing.com.