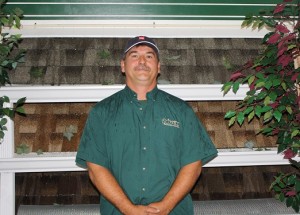 Muth & Company's Carl Sizemore has been working as our Repair Estimator for over five years. Carl is a hard-working guy who enjoys bringing customers peace of mind when he pulls up to their house in the Muth truck. His job responsibilities include writing estimates, finding leaks, measuring roofs, and installing insulation and ventilation systems.
Like all employees of Muth & Company Roofing, Carl's goal is to make sure every customer is satisfied. "My greatest strength is my ability to talk to customers, listen to their concerns and give my best professional opinion," says Carl.
"Carl is a great field estimator," says Chad Muth, president of Muth & Company Roofing. "Since he comes directly out of the repair department, he understands what it takes to fix and repair a roof. He is able to explain it in easy-to-understand terms, and since he's not a salesman by nature, the customers really feel he is doing what is best for them, not his pocketbook."
Carl grew up in Marion, Ohio, and appreciates many aspects of his job, including the steady pay, the different challenges that come with each day, being able to work outside and his great bosses. He feels Muth & Company is set apart from other roofing companies in Columbus, Ohio, by a commitment to employee training, customer service and giving back to the community through various charity events.
In his free time, Carl enjoys motorcycle riding and cheering on the Bengals, the Reds and the Cavaliers. His favorite place to dine out is Ryan's Steakhouse, and his favorite TV show is Friends. If he could go anywhere for a day, he would head to Cincinnati to watch a football game.
Carl's proudest accomplishment thus far is going back to school. One of his long-term goals is to quit smoking.
When asked about one piece of advice he would give others about life, he says, "Take one day at a time, enjoy life and be kind to one another."
Thanks, Carl, for being an important part of the Muth & Company team!