Skylights and solar tubes are great for brightening up your home and adding a unique dimension to a bathroom or hallway, but if they start leaking they lose their allure quickly! In these cases, you need to decide if it would be more cost-effective to repair the leak or replace your outdated model with a more advanced version. Here's how to decide.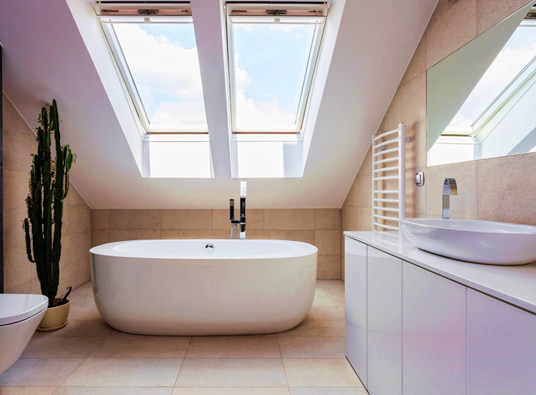 1. Check your warranty. Before you make any repairs to your skylight, or hire someone else to do it, first check to see if it is still under warranty. Warranty coverage usually runs from 10 to 20 years for skylights, and attempting an unauthorized repair could cancel out your warranty.
2. Determine the cause of the problem. Leaking skylights are usually caused by either faulty installation or outdated models with worn glass seals. If you have inspected the skylight and it seems okay, it's possible that the moisture was caused by condensation collecting on the glazing. Another culprit could be the roof flashing. According to Chad Muth, president of Muth & Company, "a lot of times when we see a skylight that starts to leak, it's not the actual skylight. It's because somebody installed the flashing incorrectly."
3. Consider repair options. If your leaking skylight is showing signs of damage, you might be able to do a quick fix with sealant or caulk, but this kind of repair won't hold for long. Repair by a professional may be the best choice if you have an expensive skylight you are hesitant to replace. Otherwise, because of the high cost of troubleshooting, it's probably best to purchase a new unit and enjoy advanced features like skylight shades. If the roof flashing is the problem, give Muth & Company a call for roof repair in Dublin, OH, and we will install new skylight flashing to stop leaks.
4. Replacement costs. In most cases, the cost to re-flash an existing unit is the same as replacing the unit but you don't get a new one. Sun tubes cost about $800 to replace and include the new unit.
Always call on Muth for evaluation of a skylight, minor repairs, replacement and removal, if needed. For a FREE estimate from one of Muth & Company's experienced roofing contractors in Columbus, OH, give us a call at (614) 682-3060.
Muth & Company Roofing is a certified Master Elite Contractor through GAF servicing Columbus, Ohio and the surrounding area including Westerville, Delaware, Worthington, Dublin, Bexley, Gahanna, New Albany, and nearby communities. Muth & Company provides roofing installation services, as well as gutter installation, gutter replacement, gutter repair, attic insulation, skylight installation, and roof repair. We're proud to offer metal roofing installation and metal roof financing services.
We use quality, feature-rich products including GAF American Harvest Shingles as well as the full GAF roofing system to deliver superior protection and warranties. If you're in need of an experienced, trusted roofing or gutter company in the Columbus, Ohio region, don't hesitate to call Muth & Company for a free estimate at (614) 682-3060 today!